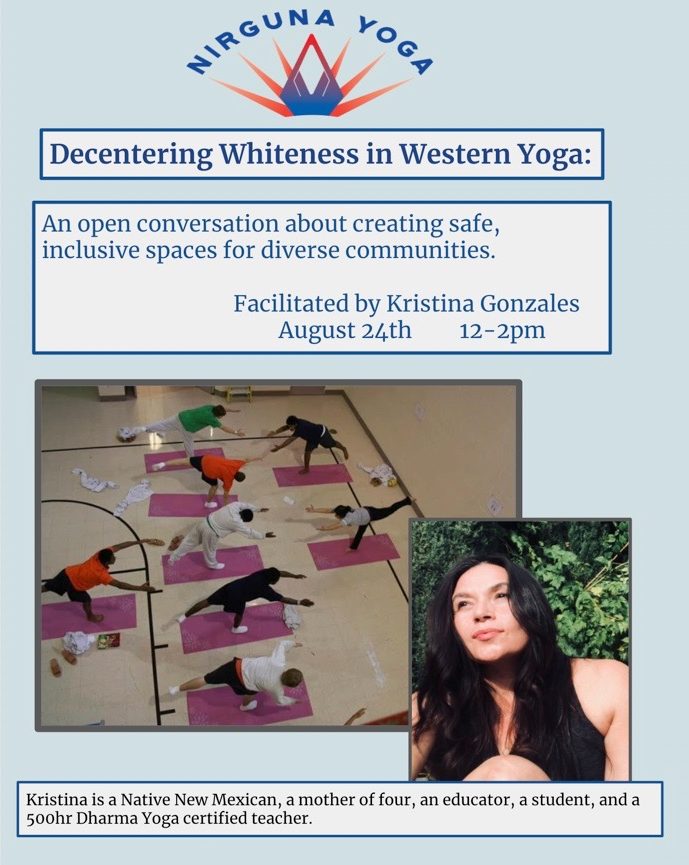 In this discussion, Kristina Gonzales will address the subtle, and sometimes overt ways in which racism, and white supremacy show up in yoga spaces. She will do so by posing a set of questions and writing prompts. The foundation for this discussion will be the Yamas and Niyamas, as well as the Bhagavad Gita. "Arjuna, whenever righteousness is on the decline, unrighteousness is in the ascendant, then I am reincarnated. For the protection of the virtuous, for the extirpation of the evil-doers, and for establishing Dharma [righteousness] on a firm footing, I am born from age to age." Bhagavad Gita, Chapter 4: 7-8. The workshop will also include pranayama and meditation.
Kristina is a Native New Mexican, Chicanx woman, living in occupied territory. A product of the Texas/Mexico/New Mexico border wars, these are her ancestral lands. She is the mother of four, and an educator who has  taught in this community for over 20 years. Teaching all ages from elementary to adults, including a course on Race, Class and Gender, co-taught with her mentor Dr. Virginia Hampton. For the past decade she's focused her attention on working with incarcerated youth. In addition to teaching at the juvenile detention center, Kristina has been involved in community outreach, and organizing around issues of race,equity, and justice. 
She has collaborated with artists, activists, musicians and writers to facilitate workshops for incarcerated youth. For the past six years she's worked to create and lead a regular yoga and mindfulness program, as well as a gardening program at the juvenile detention center. As a visual artist, Kristina worked with The Emanuel Project in Denver, to coordinate, lead workshops, and assist youth in painting murals in detention facilities across the United States, and one in Esperanza, Belize.
Kristina holds a BA in Women's, Gender and Sexuality Studies with a minor in Studio Arts from UNM. A Masters in Education in Curriculum Design, and Development from the College of Santa Fe. She is currently enrolled in two graduate programs; a doctoral program at Baylor University, and The Educational Leadership program at UNM. Kristina is also a 500-hour Dharma Yoga certified teacher.