SUMMER 2022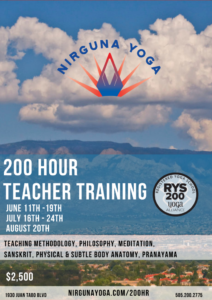 The Nirguna Yoga Teacher Training strives to produce empowered, informed, and confident yoga teachers who are well versed in the methods of classical yoga. With a desire to help practitioners reach their highest potential, our training teaches yoga asana, meditation, scriptural study, pranayama, and Sanskrit.
The Nirguna Yoga Teacher Training is ideal for both seasoned teachers and dedicated practitioners. Our goal is to share the wisdom and knowledge gained through years of practice and study of classical yoga and to impart its essence, allowing trainees to deepen their personal practice and to learn skills that will enable them to share the transformational path of yoga with others.
Trainees will have an opportunity to hone their skills and gain experiential teaching knowledge through a variety of exercises designed to help them master the essential elements of teaching, including:
 effective use of class dialogue and orchestration of voice
 applying principles of alignment
 class sequencing and theming
 use of safe and effective hands-on adjustments
 seeing and understanding the physical and energetic structure of the body
 modifying yoga postures to address individual needs
 continued development of a supportive and dynamic commanding presence in your class
Also covered at the 200-hour level: philosophy, meditation, Sanskrit, physical anatomy, subtle-body anatomy, and pranayama. A strong emphasis is placed on the study of ethical living as presented by Master Patanjali in the Yoga Sutra. Trainees will become well versed in the concepts presented in four major classical texts (The Yoga Sutra, The Stages of Meditation, the Hatha Yoga Pradipika, and the Bhagavad Gita).
The 200-Hour Nirguna Yoga teacher training is for both seasoned and aspiring teachers, as well as for dedicated yoga students who wish to deepen their practice and further their understanding of yoga.
In order to achieve certification, trainees must to our satisfaction complete and submit all homework assignments, attend every session of the contact hours during the actual immersion program, achieve a passing grade on both the written and oral exams given during the contact hours of the training, and complete all of the assignments given during the training where applicable. Trainees who complete and who successfully meet these program requirements will receive a certificate of completion and the ability to register with the Yoga Alliance at the RYT-200 Level.
The training will consist of two intensive weeks (June 11 – 19 & July 16 – 24). In addition to the two intensive weeks, trainees will receive a six-month unlimited package at the studio which will provide greater opportunity to be immersed in the practice. Trainees will develop their skills under the guidance of Kendra Rickert, Ben Kramer, Cathy Mondloch-Seavey, and other guest teachers. Our staff will work to help each trainee find their own voice and develop their own personal strengths as teachers.  Graduates of Nirguna Yoga's 200-hour training will be empowered to teach and share the knowledge and healing practice of yoga as it was passed down to them by their teachers, and by their teachers before them in an unbroken and authentic lineage.
June 11 – 19, 2022
July 16 – 24, 2022
August 20, 2022
$2,500 Early Bird Price
$3.000 After May 1st
Email us below for more info: