nir·gun·a  /nirguṇa/     yoga
free of qualities

free of limitations

the limitless potential to become your highest vision of you.
Explore Authentic Albuquerque Yoga at Nirguna Yoga Studio
Nestled in the Northeast Heights of Albuquerque, Nirguna Yoga Studio stands as a beacon of genuine Albuquerque yoga experiences. With a deep-rooted commitment to fostering authenticity and transformation, we invite both seasoned practitioners and newcomers to embark on a journey of self-discovery through Albuquerque hot yoga and diverse unheated Albuquerque yoga classes.
As a testament to our dedication, our instructors boast decades of dedicated study and practice under the guidance of revered yogic masters. These masters hail from a diverse array of authentic yoga systems, endowing our teachers with a unique blend of expertise. Their invaluable guidance empowers you to advance on your personal transformation journey, fostering growth on and off the mat.
Beyond being a mere yoga studio, Nirguna Yoga Studio is a community hub, pulsating with the essence of Albuquerque. Our commitment to creating an inclusive, empowering, and vibrant yoga community resonates deeply. Our class offerings cater to all preferences, ensuring a harmonious convergence of body, mind, and spirit.
Dive into the rich tapestry of Albuquerque yoga classes, including the rejuvenating Hot 26 & 2 (formerly Bikram Yoga) sessions and the dynamic Vinyasa (Hot Flow) flows, as well as a variety of other unheated yoga classes including Ashtanga, Iyengar Yoga classes, and Yin Yoga classes. For those embracing motherhood, our Prenatal classes offer nurturing support. Philosophy and Sanskrit classes delve into the heart of yogic wisdom, while Meditation classes offer respite for the soul.
The journey toward Albuquerque hot yoga and self-discovery is yours to embrace. Are you ready to tap into your pure potential and experience profound transformation? Our doors are wide open, inviting you to step onto the mat and embark on a voyage of growth and empowerment.
At Nirguna Yoga Studio, we understand that each practitioner is unique. Our skilled instructors tailor guidance to suit your individual needs, ensuring a fulfilling experience. Our dynamic Albuquerque yoga community fosters a sense of unity and shared growth, regardless of experience or ability.
As you venture into Albuquerque yoga classes, rest assured that our studio adheres to the highest standards of hygiene and safety. After each class, our space undergoes meticulous disinfection, ensuring a clean and inviting environment for your practice. With a focus on authenticity, empowerment, and inclusivity, Nirguna Yoga Studio embodies the essence of Albuquerque's yoga scene.
The path to self-discovery and empowerment awaits you at Nirguna Yoga Studio. Embrace the transformative power of Albuquerque yoga and Albuquerque hot yoga classes, and join us in building a strong and vibrant yoga studio Albuquerque community.
Nirguna Studio Features: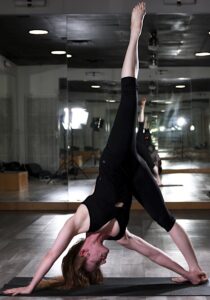 Large yoga rooms
Showers
Large changing rooms
Free parking
State of the art heating system
High output humidifiers in the heated room
(95-105 degrees, 40-50% humidity)
In-studio air purifiers with HEPA filter 
Disinfected between classes and deep cleaned regularly
First Timers
Awesome, you're thinking about taking your first Nirguna Yoga class!  Or maybe you just took your first class and you're looking for a few tips.  We're here to help!  Click the "First Timers" for all the info you need to get started!
We are beginner-friendly, and every class can be tailored to the needs of new yoga students.  In our classes, you'll find a full range of ages, body types, backgrounds, and yoga experiences.
Looking for the best way to experience our classes?  Try our Intro Special: $30 for 30 days of yoga!