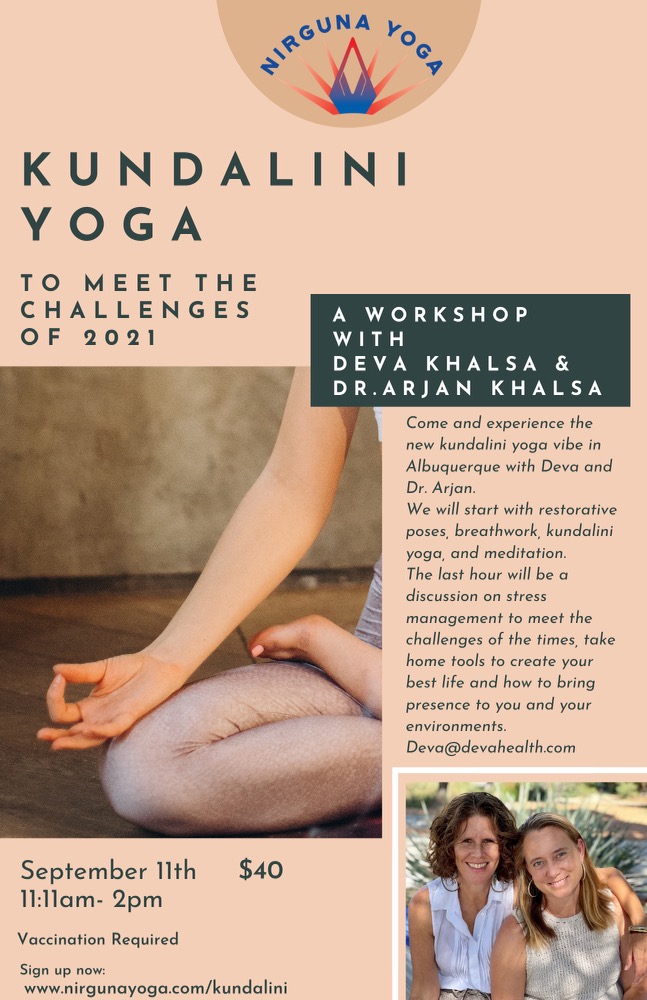 Come and experience the new kundalini yoga vibe in Albuquerque with Deva and Dr. Arjan.
We will start with restorative poses, breathwork, kundalini yoga, and meditation.
The last hour will be a discussion on stress management to meet the challenges of the times, take home tools to create your best life and how to bring presence to you and your environments.
Note that COVID-19 vaccination is required for attendance.
Deva Khalsa is a certified yoga teacher trainer, Ayurvedic Health Practitioner and real estate broker. She co-owns 'The Cleanse of Santa Fe' and 'DevaHealth' with her son. For close to 20 years, she ran holistic detox and cleansing programs while cooking gourmet, vegan food for thousands of people around the world. Currently she has enjoyed a career shift into real estate where she takes her love for helping people by finding their next living space. She embodies the spirit of healthy lifestyle and is passionate about empowering people to consciously take control of their lives.
Dr. Arjan Khalsa comes from a family of Chiropractors and has been a practicing Chiropractor and healer for over 20 years in Northern New Mexico. She has been teaching and practicing yoga, food for healing, cooking, and conscious lifestyle for over 20 years. She has traveled extensively around the world leading meditation courses to thousands of people and loves the dynamic of people getting together. Her passion is helping each person find their own healing path through conscious lifestyle choices to live their best life. She has recently relocated to Albuquerque with her husband and two teenagers and is ready to share her wisdom and knowledge with this amazing community.
Deva and Dr. Arjan have co-taught dozens of classes to people around the world over the past 20 years to create a delightful and cozy environment to people of all ages, ability levels and yogic practices.