Join internationally renowned yoga and meditation teacher and author, Beryl Bender Birch as she explains why it is critical we practice, not just for ourselves, but for all of humanity as well.
Only $65 for both sessions!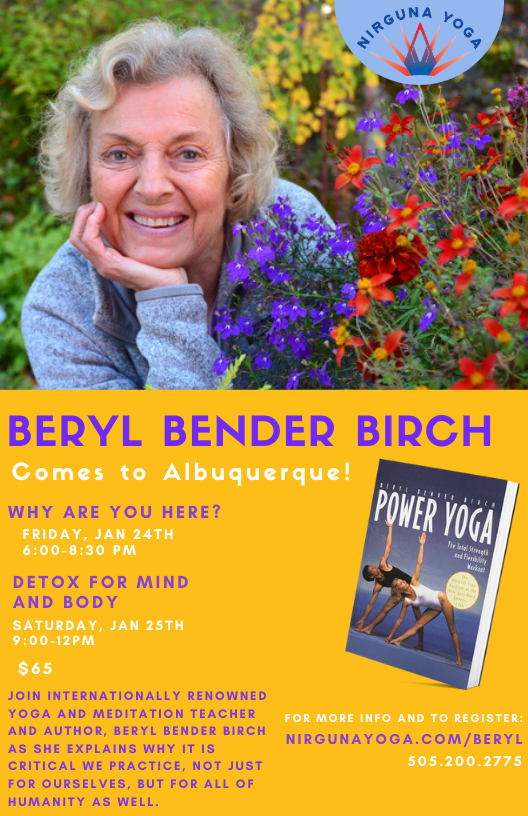 Friday, January 24th
6:00-8:30 PM
Why are you here?
Step into the New Year with inspiration and discipline. There are lots of things you could be doing tonight. Why are you here? If you are longing to know, to soar, to heal, to be happy, to answer the question "Who am I?", then you know why you are here. Yoga changes us, transforms us, strengthens us, and elevates our consciousness and it all begins with "breathe in and breathe out". Move, breathe, rest deeply and go home, sleep well, and come back tomorrow!
Saturday, January 25th
9:00-12:00
Detox for Mind and Body
Yoga only works if you do it. Learn to develop a regular practice. The Present Power asana flow system, is a strong and sweaty practice that can be modified for anyone. The yoga tools of locks (bandhas), breath, and gaze (drishti) are potent allies that serve to strengthen our immune system. They help us to develop focus and clear tightness, toxins, and tension from our minds and bodies. The practice of pranayama continues the process we started with asana – training the mind to be present. It requires a cultivation of attention on the breath and is a gateway to meditation. Once we can link our minds to our breathing, the mind quiets down and we are able to see more clearly, which leads the way to greater health, peace of mind, and happiness.
Beryl Bender Birch, eRYT500, author, certified yoga therapist, and social activist, has been teaching yoga and meditation around the world since 1974. She is co-founder and board chair of the Give Back Yoga Foundation and Executive Director of The Hard & The Soft Yoga Institute (the internationally renowned and highly respected teacher certification school). She has been training yoga teachers through her school since l980 and brings tremendous wisdom and understanding to the practice of yoga.
From asana to meditation, Beryl explains why it is critical we practice, not just for ourselves, but for all of humanity as well. Beryl draws from her many books, including Power Yoga and Beyond Power, as well as from her over 47 years of teaching and practice. Her students are a global family of yoga teachers and practitioners, folks just like you, who have stepped up, with courage and strength, to be pro-active leaders in their communities and are working to give back, create change, and heal our world.
About Beryl:
Beryl is a renowned teacher, not only for her knowledge of classical yoga and her studies of the Yoga Sutra, but for her abilities to brilliantly and intuitively access a student's weaknesses and misalignments, both physically and psychologically, and prescribe specific yoga practices for healing and growth. Her down to earth, accessible style of teaching has made her a beloved and highly sought after teacher. She pioneered the introduction of yoga into the athletic community in 1980, when she became the Wellness Director of the New York Road Runners Club. She continued in that position until 2002, teaching yoga classes in New York City to over 100,000 students in that 22 year period of time.
Power Yoga:
Beryl coined the term "power yoga" and her Power Yoga classes in New York (and workshops all over the country) were the first and original "power" yoga program. Based on the astanga sequences (Beryl's personal practice since l979), Beryl adapted the power practice for athletes of all sports, ages, and abilities, which is one of the reasons the program rocketed to success. Her first book, Power Yoga, was published in 1995 and sold nearly 300,000 copies. She has since then written 3 more books, Beyond Power Yoga (the philosophy of the 8 limbed yoga path), Boomer Yoga (practice for aging athletes), and Yoga for Warriors (written for veterans and men and women in active duty military)
Her Background:
A former biofeedback researcher with a degree in English and philosophy from Syracuse University, she has been an avid student of classical yoga, meditation, and the study of consciousness since l971. She traveled to India in l974 to further her studies and has been training yoga students and teachers through her school, The Hard & The Soft Yoga Institute, for nearly 40 years. She is a long time leader in speaking out on the critical importance of spiritual revolution, the combination of activism and practice.