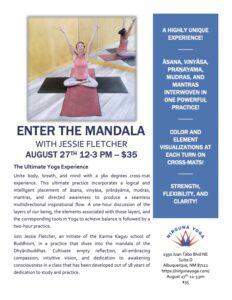 A HIGHLY UNIQUE EXPERIENCE!
ĀSANA, VINYĀSA, PRĀṆĀYĀMA, MUDRAS, AND MANTRAS INTERWOVEN IN ONE POWERFUL PRACTICE!
COLOR AND ELEMENT VISUALIZATIONS AT EACH TURN ON CROSS-MATS!
STRENGTH, FLEXIBILITY, AND CLARITY!
With Jessie Fletcher
AUGUST 27TH 12-3 PM – $35
The Ultimate Yoga Experience
Unite body, breath, and mind with a 360 degrees cross-mat experience. This ultimate practice incorporates a logical and intelligent placement of āsana, vinyāsa, prānạ̄ yāma, mudras, mantras, and directed awareness to produce a seamless multidirectional inspirational flow. A one-hour discussion of the layers of our being, the elements associated with those layers, and the corresponding tools in Yoga to achieve balance is followed by a two-hour practice.
Join Jessie Fletcher, an initiate of the Karma Kagyu school of Buddhism, in a practice that dives into the mandala of the Dhyānibuddhas. Cultivate empty reflection, all-embracing compassion, intuitive vision, and dedication to awakening consciousness in a class that has been developed out of 18 years of dedication to study and practice.