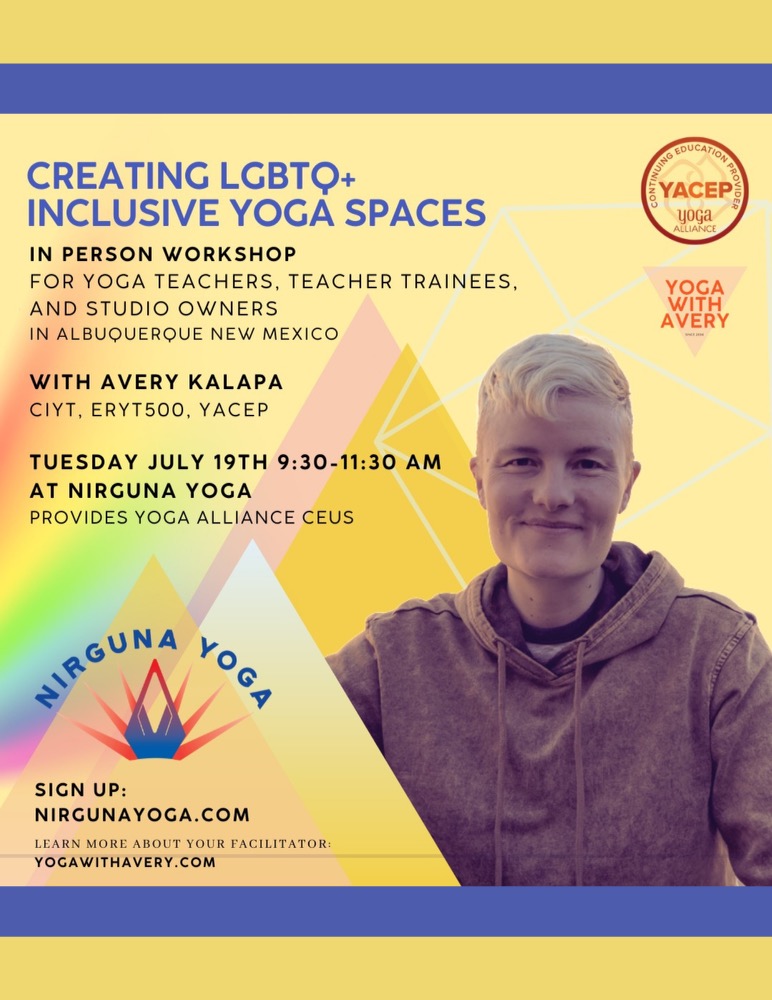 Tuesday, July 19, 9:30 – 11:30 AM
Do you want your yoga classes to be inclusive and welcoming, but feel unclear or unconfident when it comes to queer and especially trans, nonbianry, and gender nonconforming students?
What limiting perspectives, assumptions, and ways of relating dominate most yoga spaces? What's the difference between sexuality and gender? What does non-binary mean? Our practice of ahimsa asks us to do no harm. How can we awaken to – and therefore divest from – the harmful norms that play out in our yoga classes because of social conditioning? How does this work benefit us all, you included?
Join us as we explore a useful framework for creating courageous spaces.
This 2-hour workshop is for teachers of yoga, teacher trainees, and interested community members. Open your mind and heart and gain skills and inspiration towards cultivating more inclusive yoga spaces for gay, lesbian, bisexual, queer, intersex, nonbinary, and or trans practitioners.
Session will include inner and outer work: a little asana, some philosophy, practical tips and Q&A. Geared towards cis and or hetero teacher allies; QT folks welcome to join as well!
Provides CEUs through Yoga Alliance. (Certificate available upon request.)
Tuesday, July 19, 9:30 – 11:30 AM

About your facilitator:
Avery Kalapa (they, them) is a yoga teacher, community weaver, queer and trans wellness advocate, CIYT, eRYT500, YACEP, BFA, with 20 years experience. Avery's approach is rooted in anti oppression: yoga for inner healing and collective liberation.
All people, especially folks who have been left out of or turned off by mainstream yoga spaces, should have access to the revitalizing nourishment of deeply informed, classical yoga that goes beyond fitness, without having to code switch or assimilate in order to practice.
Celebrated for their enthusiasm, accessibility, and depth of technique, Avery's teaching reflects deep gratitude for the Iyengar Lineage. They offer a vast knowledge of integrative functional anatomy and stability that empowers their students to experience tangible, inspiring transformation in body, mind and consciousness. They teach asana as a conduit for embodying all 8 limbs of Patanjali's system of yoga.
Avery is involved in various yoga equity projects, such as ABQ Queer Trans Community Yoga. They're also an artist, organic gardener, and parent. Avery is a white, queer, nonbinary settler grateful to live on unceded Tiwa land, in Albuquerque NM. Learn more at yogawithavery.com or on instagram, @yoga_with_avery.